Magycal OTT is much more than a regular OTT Solution. It provides a seamless, engaging, and vibrant experience allowing viewers not only to watch, but also to connect with live streams through a wide array of interactive features. If you are looking for a highly innovative OTT Solution, capable of taking your audience by storm, you are in the right place.
One-stop shop for your live and
VOD content.
Live streams of all TV channels are beautifully designed for virtually all mobile devices and computers. Access to a comprehensive VOD library from anywhere and at anytime, organised by categories for easy access. Thanks to a captivating home screen with content highlights, your audience will never miss the next major football match, TV show, or live event. With our cutting-edge OTT Solution, you can deliver seamless and personalized viewing experiences, allowing users to enjoy their favorite content on-demand and on the go.
minutes spent monthly per user on live streams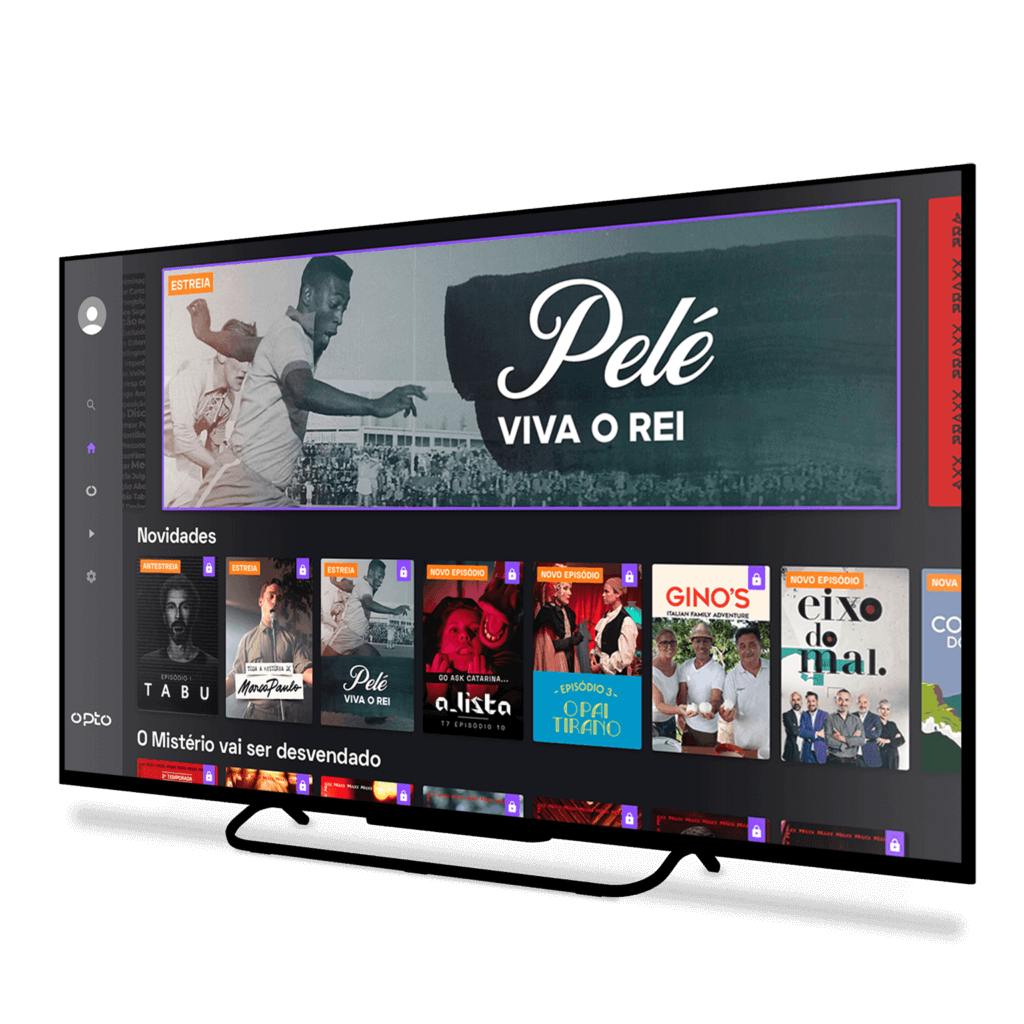 Social tools to build your community.
Engage users in exciting experiences through live chats, polls and quizzes, that encourage interaction and create new sponsorship opportunities at key moments. Invite viewers to interact during live broadcasts and when watching VOD content, and to participate in crowd-sourced events by sending messages, photos, videos, and liking and sharing content.
Enhance user engagement and foster a sense of community with our cutting-edge OTT Solution, designed to deliver seamless and interactive experiences. With our OTT Solution, you can create captivating user experiences that drive audience participation and optimize your platform for success.
OTT Solution with Personalised and intelligent notifications.
Power-up your live and VOD content through a breakthrough AI that evaluates the scene context in real time to provide users with smart information at the right moments. Send personalised notifications based on user preferences or categories and provide content recommendations according to the user's consumption history. With our advanced OTT Solution, you can optimize user experiences, delivering relevant information and personalized recommendations to enhance engagement and satisfaction.
different parameters evaluated constantly in real-time to send smart notifications
smart info messages sent on average per live event
Support for SVOD, AVOD and TVOD business models.
Generate extra revenues with a captivating and seamless OTT Solution. Monetise your audience through subscriptions, pay-per-view, or advertisements – you choose the best fit for your content. Our payment modules integrate with a wide range of digital digital payment methods, plus Telco Direct Carrier billing, ideal to promote impulse purchases.
Premium user lifetime value on a freemium model
Complete and unparalleled
sports-specific

features.
Engage sports lovers with a real-time 24/7 notification engine that keeps them updated with the most recent events around your content. Users can have access to an up-to-date calendar, follow their favorite teams and competitions, and even access live information about match highlights, stats, lineups, videos, and historical data.
push notifications of game events sent monthly
OTT modules:
What's included?
Below you can find our commercial offer, divided into several modules to fit your needs. It starts with the Essential modules, which you can mix'n'match with a wide array of modules. With our comprehensive OTT Solution, you can choose the modules that best suit your requirements, ensuring a tailored and efficient solution for your business.
Feel free to contact us to request a demo and prices.
Includes iOS and Android native apps, a responsive website, and a web-based back office. It offers the following functionalities:
Extension from the Magycal OTT module to support a wide array of televisions and set-top-boxes. It includes: 
Need a partner to handle video streaming?
Don't want to handle all the video transcoding, processing, storage, CDN, DRM and DVR, among other tech features? No worries. We can take care of all that for you. Our Magycal OTT solution can easily integrate with your current video platform, or we can use our own, so you can relax and focus on creating great content for your product.
The Community module helps you to create a real community around your content. It features:
To go even further when it comes to community building, the Community + module adds even more engaging features:
The Smart Info module features:
When a face is detected, information about that person/character is presented on overlay.
This module builds upon the standard Smart Info module to deliver:
Segmentation & Personalisation
To start delivering personalised experiences for your audience, we offer:
Based on segmentation by user preferences or categories, custom notifications are sent to different groups of users.
Content is recommended to each user, according to her/his content consumption history.
The Sports module has everything you need if your audience eager for sports information. It includes:
Based on our Smart Information + module, we built a use case perfectly for Sports, that features:
The Monetisation module features everything you need to monetise your audience:
For both live streams and VOD-content.
We integrate with the main digital payment methods (App Store payments; Play Store payments; Credit Cards), or any other payment gateway.
By integrating the payment gateways with our back office, you can manage and overview purchases and subscriptions across all the payment methods.
However, if you need a wide array of payments, we can also support:
Interested in Magycal's OTT solution? Drop us a message to inquire about prices and how we can start working together!
The magic under the hood.
The Magycal OTT Solution is a modular solution that can fit all your needs, being easy to integrate with your backend, CMS, or third-party services. It uses the most recent server and front-end technologies to deliver an efficient and secure infrastructure, responsive websites, and beautiful native applications for virtually all devices.
"The technological innovation and UX design that Magycal's team brought to our Digital Hub made it a best in class OTT solution plenty of worldwide innovations. Proud to work with such an inspiring team, always driven by creativity and results."
"The new version of OPTO SIC, developed by Magycal, delivers our subscribers and users an experience of excellence!"
"Magycal's innovation and creativity makes it the perfect partner to deliver highly engaging OTT experiences to our clients."
"It's always a pleasure to work with partners like Magycal that propel us to design unique solutions to better serve our customer needs. Our partnership is responsible for creating unique live-streaming experiences that only Wowza and Magycal can deliver."
"What an incredible experience was to be able to read your comments and see all your love, it was way better than I expected. Thank you Best Seat Music, thank you TEAM GOT IT!!!"
Let's take your audience by storm?
Send us a message and we'll schedule a call in the next days!
Do you need live interaction tools to power-up your content?
Do you need to unleash your brand's potential?